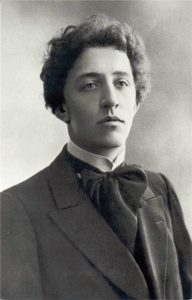 Alexander Blok was born in the end of November 1880 g. I lived only 40 years old. Place of birth – St. Petersburg City. Father – Alexander L. Blok – a good lawyer, aristocrat, talented and wise professor (University of Warsaw), the representative color of the nation at that time. poet mom, Alexandra Andreevna, It came from an old family Beketovyh. Marriage of parents proved fragile. Little Sasha grew up with a stepfather. Nine year old boy lived in an apartment at the military barracks on the outskirts of St. Petersburg. In the same year he was sent to school. AT 16 years experienced passionate love: he was fascinated by a woman, who was older than him twice.
AT 1889 he graduated from high school and enrolled in the Metropolitan University, where he studied law. Three years later, he transferred to the Faculty of History and Philology. At the university, Alexander Soloviev met with family. Sergei Solovyov became his closest friend. First poems written by the poet even in the age of five. He was fond of the publication of handwritten journals, I loved to listen to music. The life and creative destiny A. Blok M played a role. M. Bitter, Anna Akhmatova and Lev Gumilyov.
AT 23 year marries (1903). Married to the genius of poetry representative kind Mendeleevs. young wife, Lyuba, the great chemist's daughter – the character of his debut book of poems. But passion does not prevent him sometimes to change it. And the wife did not differ fidelity, I cheated on him with A. white. But Alexander and Love were inseparable until death. Children they did not have, but there is a version, that one of the mistresses bore him a daughter. Alexandra Pavlovna Lyush by genetic examination refused: she believes in affinity with the great talent.
1906 year – He graduated from the university, out his poems "Guardian angel", "Rus", "stranger". He was often abroad, but not enthusiastic about Western society. In summer 1916 , the poet called up for military service, but 1917 It was a year and a period of great upheaval. October Revolution the poet met with confusion, He went into exile not, He joined the Extraordinary Commission of Inquiry. Alexander visited conflicting thoughts about the future of Russia.
He took the new government and worked in its interests. Time for creativity does not remain, any serious health problems. Resolution on healing abroad came too late. The main cause of death was inflammation of the heart valve. Petrograd in those days was filled with contradictory rumors, the poet lost his mind for a few days before departure to another world. he died 7 August 1921 of the year.
Block creativity – powerful layer of Russian and early Soviet literature! He was destined to be born at the crossroads of two eras. Author of the book published in many corners of the planet. Poetry permeated with love for nature, also wrote poetry about the motherland. his lyrics – classic symbolism. His poems are simple and easy, many brief – placed in 16 term. And his poems approved curriculum. A good steel drama theater pictures. Those familiar with it, who thoroughly studying Russian culture.
To have survived some interesting facts from the biography of the creator, and an asteroid named after him. Leave in his prime – the inheritance of the great literary classics. But the unit has experienced Pushkin and Lermontov, Mayakovsky and Yesenin. During his life he was able to release a lot of thematic collections, a cycle of poems dedicated to the ladies, and everything beautiful, that surrounds us.